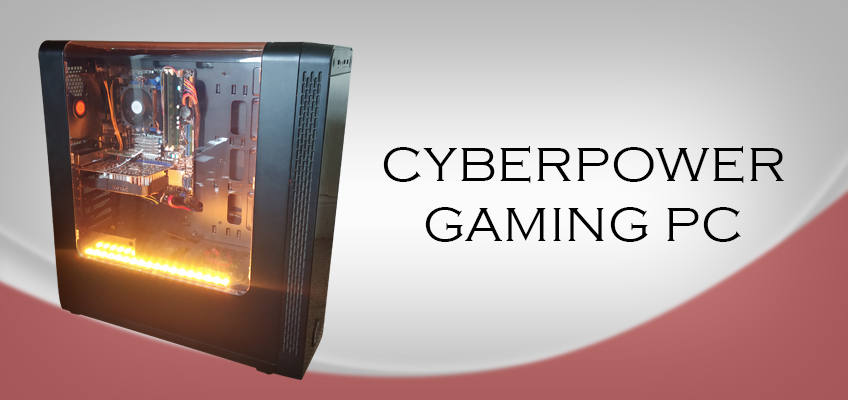 As most of you may know, I love gaming. It's one of my favourite hobbies and something I've enjoyed since I was a child! I've been through many consoles and games, so if you've ever wanted to meet a gaming nerd – hello!
Once I hit adulthood, my time for playing game consoles greatly reduced and my work hours increased. When I opted to go freelance with my graphic design business, I decided to sell my consoles alongside the games. I then purchased a PC which would accommodate my job role and be powerful enough to run games.
And that's where the Cyberpower gaming PC comes in! It comes in a black case with a side window (in which I installed LED strips to add lighting effects) and is equipped with an AMD-FX4300 quad-core running at a speed of 3.80GHz. This helps to run multiple tasks at once and allows games to be played at 720p/1080p HD settings. However, this CPU doesn't have any turbo clocking technology. This occasionally causes it to bottleneck and hit 99% CPU usage when playing at 1080p. This is because it is not strong enough to maintain this resolution.
The Cyberpower gaming PC comes with the zotac GTX 1050 graphics card which contains 2GB GDDR5 memory, a single cooling fan and three output ports; HDMI, DVI and display. This particular graphics card is great for playing old games at 1080p on high display settings. But frame drops may randomly occur due to the CPU bottlenecking the graphics card and not allowing it to reach its full potential.
The PC comes with 8GB of pre-installed RAM but I decided to upgrade it to 12GB. It also includes the standard windows 10 64bit operating system and possesses a single 1TB hard disk drive (HDD). This is useful to store large gaming and document files on. However, I think using a SSD would be more beneficial to create better performance.
I would totally recommend this PC if you're on a budget. It costs under £400 and is decent enough to run games like World of Warcraft and League of Legends at a good frame rate. However, if you're looking to play games to the likes of Call of Duty: Black Ops, then this PC is not for you. This is because the frame rate per second won't go over 25 due to the CPU launching to 99% throughout the game play. Therefore, it wouldn't be able to run newer games as they have even more hardware requirements and are much more graphically demanding.
Until next time.