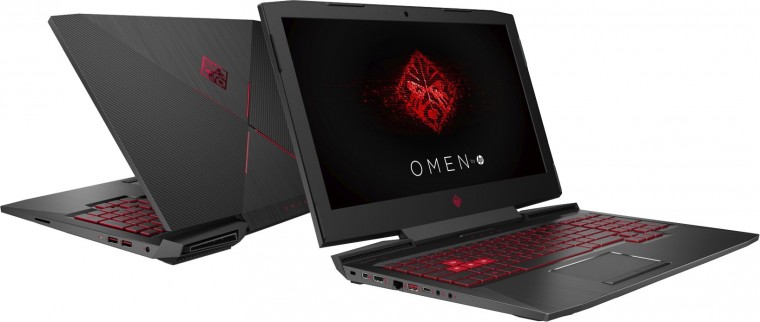 HP Omen 15 Gaming Notebook
HP is one of the most well known brands within the IT industry. Founded in 1939, it has come a long way from its humble beginnings. It now has two divisions – enterprise and development.
The Omen series by HP offers affordable gaming notebooks. The Omen 15 is one of the latest releases with a 15.6″ 4K display. It has a compact design, loud speakers and multiple ports. This notebook boasts detailed graphics and promises an interactive experience alongside being VR ready. It also has a powerful NVIDIA GeForce GTX 1070 graphics card and 8GB DDR5 memory. The Omen 15 packs a punch with either an i5 or i7 CPU depending on which model is purchased. Furthermore, it offers an impressive cooling system with larger blades and 3-phase motor improving heat dissipation.
The notebook lid is made up of carbon fiber and plastic. The deck is constructed of aluminium and possesses a keyboard designed specifically for competitive game play with zoned backlit keys. These allow multi-tasking and simultaneous keystrokes to be detected.
The battery life on this machine leaves more to be desired. It will probably have to be plugged in most of the time as it lasts just a little over 3 hours. However, it is a great price for the power its packed with.
Until next time.